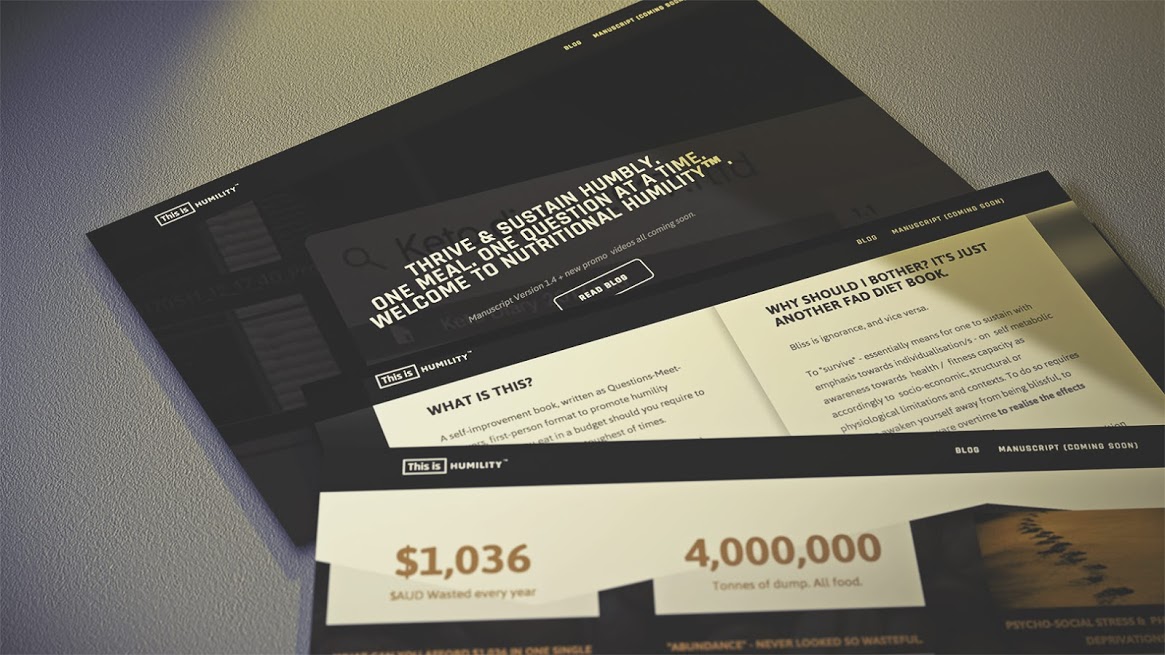 In the midst of all my struggles, hundreds of hours across weeks and month/s later I finally am presenting to you all the new home website for Humility Through Frugality™ Manuscript and blog as one website (THISIS-HUMILITY.COM). This is a transition away from having separate entities (Google Blogger® platform to host the blog contents) and a separate IMXPRS CMS website (thisis-humility.com.au).
The main reason for this are three folds:
In the interest for typographic RE-branding of the Manuscript (Humility Through Frugality) to be consistent to that of the This Is™ original parent branding typographic family (Rajdhani as primary headlines) but still retaining Asap – as typographic copy and extensible display headers.
To accomodate simplicity for all future viewers and visitors to be greeted with just one (1) web site to accomodate BOTH the project (manuscript as this time stands) as well as the blog.
For professional and career proof of justifications to objectively state and personify that I have at least demonstrated basic proficiencies within WordPress® platform, along with custom page builder Elementor® alongside with humbly limited CSS customisations.
Keep in mind that this is highly an experimental, PILOT-TEST website to house both the blog components and its' promotional manuscript This Is™ Humility Through Frugality.
Thus, periodical changes, tweaks and work in progress modifications may indeed remains debatable to occur overtime.
I would wish to reiterate to say; that thus far throughout all my years and in the best of my capacity as a multi-disciplinary designer and creative  –
That I am not by any means a coder or a programmer by any means. WordPress® have been such a mammoth of a learning curve; to say that it is "easy" is a complete understatement.
Coming from an entirely Squarespace® / managed CMS background – to say that WordPress® is "easy" is most likely reserved to those who are at least capably front-developer/s minded. As much as it is exhilarating for me to praise upon its ecosystem of POSSIBILITIES – IT ALSO COMES at a SIGNIFICANT COST – of increasing IMPOSSIBILITIES of detracting me – as a designer – to just FOCUSING ON CONTENT creation, writing and revisions themselves.
Furthermore also, that it frightens me that the thousands of plugins, themes and workflows currently existing for the platform are actually UNCONTROLLED as a tightly bound workflow ecosystem and thus – hundreds if not thousands – of hours would simply lost by being immersed into trying to "get into grips" as to what is technically stable.
My thanks (beyond WordPress)
Nevertheless, I would like to sincerely thank Wordplus to have this hosted as a free hosting plan platform. Space is indeed a punitively restricted feature and this I understood no less given that it is hosted for free. I will try my best to ensure that everything is within the best of capacity to understand – keep up to date to ensure this project's consistency and online platform for the many months and perhaps year/s to come.
Please submit to me thoughts and / or feedbacks. My biggest journey yet is bound to happen next – that is – the upcoming Version 1.4 of manuscript which is going to be yet again a comprehensive update.
I have been, quite frankly speaking – not well since up to a month to this day of me typing this. As I suspected to have an impaired / SI Joint dysfunction due to having to withstand weeks of pain even whilst remaining stationery day in and out.
With Humility despite pain and adversities,
Andrew W.
AW™ / andrewwiguna.com