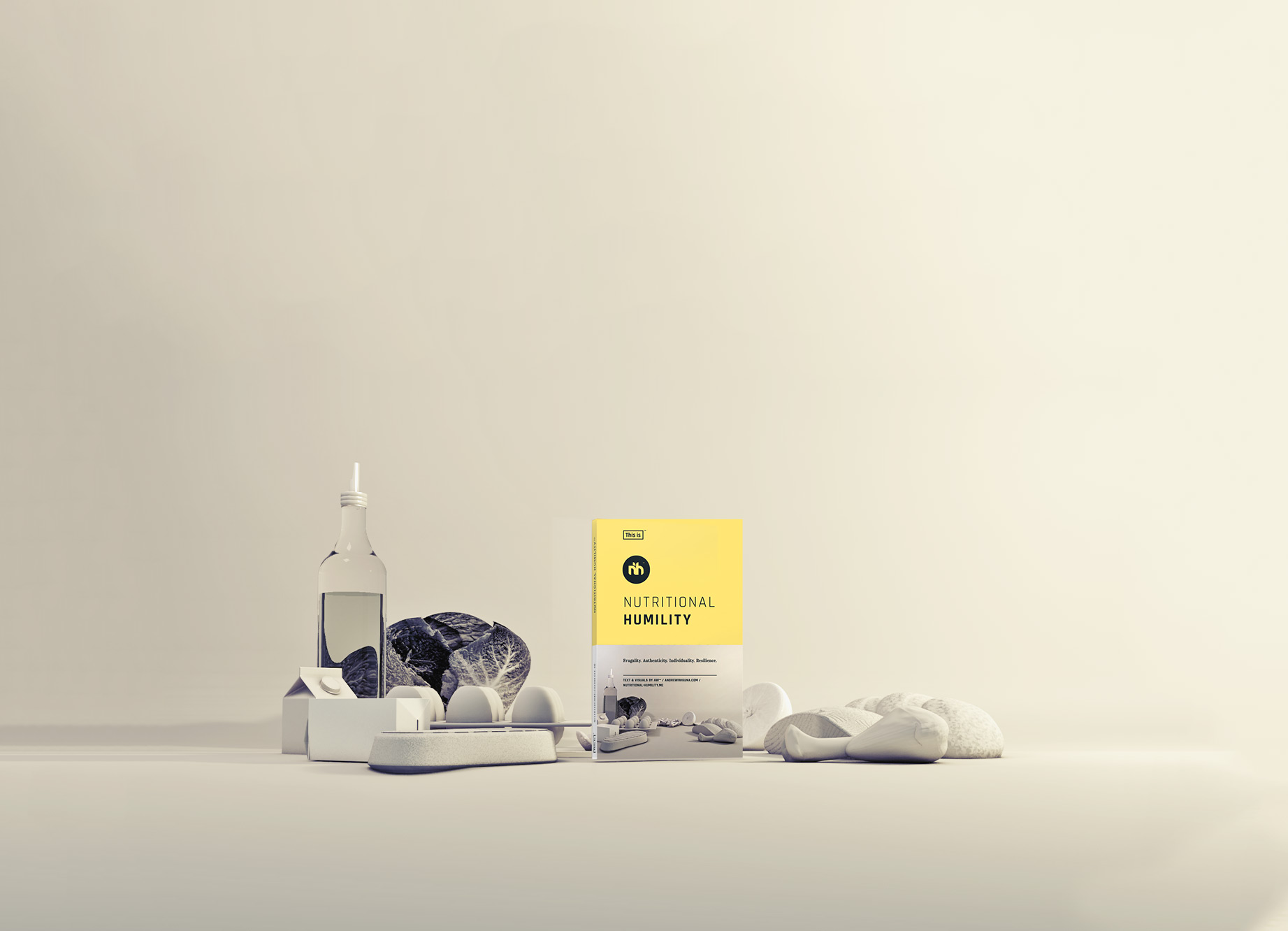 Note: written in the third person perspective. Subject to periodical revisions for clarity, elaborations and/or updates.
AW™ / andrewwiguna.com hereby presents the Limited Indemnity declaration. In hopeful expression without undue stigma or prejudice ~ to disclose his limited certifications and thus limited indemnity throughout all public-end interpretations of this Concept Initiative (This Is™ Nutriments) and its parent manuscript (Nutritional-Humility.me).
This declaration consists of the following sections (click to jump link):
This Author (AW™) solemnly gratifies you for your timely acquaintance to this workmanship humility. Before your expedited judgments ~ for utility. 
Live-It-Forward,
AW™ / andrewwiguna.com
nutritional-humility.me
1. Context and Rationale behind this declaration.
This overall indemnity declaration is envisioned beyond professional / academia declaration of "transparency" at disclosing This Author's (AW™) frank "credibility" limitations. But nonetheless implore the much needed empathy at questioning present dogmatism. Surrounding academic barriers prohibiting or preventing ~ benevolent intents off emerging independent "Health", "Nutrition" and/or "Fitness" advocacy channels alike. 
This Author (AW™) solemnly invites you ~ for your timely acquainting with this declaration's Background Context and (in response) ~ This Author's (AW™) Rationale/s ~ from insisting and maintaining this Concept Initiative, despite limited credibilities. 
This Author (AW™) also encourage new or prospective readers to consider viewing the "About This Author" page. As this details This Author's  industry background and his professional on-going obligatories, outside this Concept Initiative. 
1.1 Context ~ Credibility Criticism
"Health" and/or "Wellness" advocacy channels today stems exponentially from so called "influencer" aspirations within Social Media. With however varying evidences of "credentials" or certifications. It is to be acknowledged that questions may brew over how "far" or on what "basis of credibility" amongst the "dietary advices", "fitness routines", "suggestions" and/or "meal plans" prescribed ~ towards the lay or general members of public.
Their intents, as what This Author sincerely acknowledge ~ nevertheless stands on their own, towards sociological benevolence. "Inspiring" and thus "Influencing" viewers and individuals to take helm and ownership ~ of Scientific Self-Enquiring. Be it for "wellness" or for "self-improvement". 
This Concept Initiative and its parent manuscript (Nutritional-Humility.me) remains indifferent. If yet ~ focuses less on quantified Narcissicsm. However, it is nonetheless never immune from Credibility Criticism.
Credibility Criticism ensues such that readers or viewers may question the "authority" or "validity" behind This Author (AW™) limited credentials.  For example, prescribing "weekly humility budget shopping plans", "Cyclical ketogenic principle + intermittent fasting",  explaining the concept philosophy of "Self-Enquiry", and/or thorough sharing of personal N=1 account as  "Expired Foods Guide & Experiences". 
Hence, in response to the above scrutiny amongst discerning peers  ~ This Author (AW™) decidedly present his "Rationale/s" at addressing these concerns and disclose his counter-responses . 
1.2 The Rationale 1/2 ~ "Honesty" surrender &  Scientific Consolation.
This Author (AW™), were him being questioned or  handed over to the Scientific "Authoritarian" bodies ~ nonetheless willingly "surrender" for "honesty". Likewise, he'd immediately surrender to "others" more affluent academic supremacy. Especially should any Scientific mechanics overwhelm reasonable comprehension. 
However all "good" intents remained firmly in both mind and body as simply just that ~ an authentic, benevolent "intent". For providing Scientific Consolation / Contemplations. That is ~ to open and facilitate ongoing dialogue/s over the many turbulences amidst these two (2) overarching themes for concern: 
Involuntary Structural Violence – involuntary frugality and/or sanctioned impositions. Be it out of state welfare subsistence, alongside their psycho-social and biological ~ effects. Alongside descends towards collectivised stigma and prejudices. "Involuntary" – meaning without one's consent nor "will".  And;
Addressing unintended "effects", or the various dubious outcomes ~ from persisting amidst constricted Scientific Authoritarianism. As exemplified within our "established"  medical dogmatism and/or collectivised paternalism. Eg. the "status quo", or the increasingly vague "Everything-In-Moderation" ~ virtuosity Gospel.
The most significant "Rationale" behind this Concept Initiative's sole existence; were it be questioned ~ is arguably governed by the very first (#1) theme of concern. The cascading psychosocial and physiological declines prompts worsening frugality. Alongside tempts ~ to tinker with scientific unorthodoxies for survival. Meanwhile, the stigmas surrounding enforced welfare institutionalisation/s ~ only exacerbates this violence; structured not from one's own "decision". But rather ~ framed by outside collectivism. As stigma brews from every unsuccessful job applications or career diversification attempts. 
Further barrier to this hardship, is the  appealing to academic or credentials "Authority". By however "limited" indemnity of This Author (AW™) ~ this is pragmatically (IN)accessible; for laterally advancing  Scientific knowledge frontier. Especially if academia opportunities themselves remains further structured and/or barred in their accessibility.
What This Author (AW™) presents as counter argument against such widespread Credibility Criticism is never as that of "questioning" ~ the "correctness" behind any  "mechanics" or teaching(s)  of Biochemistry, Physics, or Mathematics (to name a few). But instead aimed at the manipulations on such "accessibility" and/or "structuring" ~ the "delivery" of Academia altogether. Thus prohibiting the very much needed Scientific enquiring in the first place. 
1.3 The Rationale 2/2 ~ Scientific Individualism is prohibited. Yet, Scientific Communism prevails.
This Author (AW™) wagers that we've established ourselves a notion of institutionalised "comfort". By not challenging the status quo. For every "controversial" hypothesis, is likely met with attacks directly aimed at that person's Credibility / ad hominem. Whilst discarding the scientific value, validity and/or integrity ~ of the argument/hypothesis itself.
This Author (AW™) presents his second and last rationale as "Cyclical Irony". Whoever is keen to "learn more" about the "nuances" of Nutritional Science ~ will likely not be persuaded, by anything one already knew ~ by the above Institutionalised template of "comfort", over and over again. Practitioners know this deep down, that "health" is an individual journey. Bound to collide persistently again to that "there is no one size fits all" admission. 
Yet ~ "challenging" the "unchallenged" comfort, requires controversy. And that ~ essentially encapsulates the entirety of This Author's own hardship. He is unable to contribute to scientific liberty out of Authenticity. Simply due to lack of "leverages".  Authority powers-that-be on the other hand ~ ably structures these course of events. By preserving "Credibility" halo. Rather than embracing progressivity. 
Thus, as daringly one may say ~ we are, unadmittedly condoning Scientific Communism. Centralised Objectivity, sans Subjectivity. 
1.4 All due Academia "respects"; however remains to be respected.
"Credibility" ~ nevertheless remains an honourably essential attribute measuring an individual's career or professional ~ dignity. This Author (AW™) no doubt admits that Academia abuses and/or exploitations remains a serious turbulence amongst academics and scientific community at large. 
There is immense value, indeed ~ from undertaking further education. Provided  the financial leverage, and the opportunities afterwards seem pragmatic ~ This Author (AW™) alone shall continue further studying. Gauging the "future" however much depends on survival of the very moment, handout-to-handout. Compromise after compromise.  
Therefore, it is perhaps much better to anticipate the worst in all outcomes. No "one individual" ~ no matter how "decorated" in his or her professional titles or academia prefixes ~ are immune from such on-going, Credibility Criticism. Especially amidst brewing clientele expectations asking for  "universal go-to-source" prescription, "silver-bullet", or  "one-size-fits-all" ~ virtuosity Gospel. This likely compels anyone resorting to whatever "legal" indemnity(s) available both anyway or anyhow. 
This Author (AW™) is aware of this impending inevitability, and that despite limited credentials ~ nevertheless remains readily disclosing all limitations behind all "suggestions", "plans" or nutritional "advice" anywhere that this Concept Initiative suggests. 
Likewise This Author (AW™) never condones academia plagiarism. A sharing of any scientific concept, explanation, diagram, hypothesis, or finding ~ should never go without proper referencing, and/or attribution.
The above pledge is clearly evident and maintained. Through inline referencing and given the extensive bibliography as featured within all written manuscripts.
2. Certificates / Academia.
This Author (AW™) hereby have completed the following certificate levels of online education amidst relevant fields of Nutritional Science.
Despite on going financial hardships, he  channelled however few savings towards these credentials. On top of fulfilling other obligatories, amidst creative and/or design freelancing opportunity scopes, as well as career diversification attempts to support livelihood. 
Almost all Nutrition certificates below possess "food coaching" or "meal planning advisory" criteria's. Hence for proficiencies appealing to these specifics they are objectively declared here. As they were originally titled, referenced or stated as "Learning Outcomes". 
3. (Limited) Indemnity – IICT
This Author (AW™) is pleased to announce his indemnification registration approval with IICT Australia / International Institute for Complementary Therapists.  For full disclosures of what modalities are covered and/or approved please contact the author directly by reaching out to his General Contact Form at his primary / personal website (www.andrewwiguna.com). 
Irrespective of indemnity gratification,  This Author (AW™) cautions that any nutritional "advice", "suggestions", "plan" or "strategy" as however suggested throughout this Concept Initiative, this Blog (nutritional-humility.me/blog) and that of the Parent Manuscript are not – by any means definitive overrides towards any existing medical, institutional or terminal supervisions. Hence, this Concept Initiative remains entirely that as contemplative yet never prescriptive ~ dialogues for alternative explorations and experiences of Nutritional Science.
4. Author's Curriculum Vitae. 
Please visit andrewwiguna.com (under about >> curriculum vitaes). There, readers and viewers are free to download any or all the various curriculum vitaes tailored for specific formatting and industries.  
5. Authorship Evidence Authenticity. 
Click here to download the Original Authorship Evidence Declaration document.
Recently, This Author (AW™) have surrendered to the public the entire social media posts and repository contents beneath this Concept Initiative's prior years (2014-2019). Within that, an Intellectual Property declaration has been written, alongside this Original Authorship evidence; to display various concrete evidences stating This Author (AW™) sole's entrepreneurial beginnings.
Thank you.
This Author (AW™) hereby thanks you for your attentiveness and in doing so; confide in all hopefulness one may agree or empathise the above assertions. 
This Author (AW™)  hereby maintains his stance at actively maintaining this Concept Initiative. By regularly revising its Parent Manuscript, its accompanying manuscripts, as well as the variety of Tools and Resources. To continue addressing the above two (2) overarching themes, and more; as pledged in the separate blog page "Start Here". 
May this statement lasts for as long as the future thanks.
AW™
andrewwiguna.com
nutritional-humility.me